This is an area of deep importance to all of us at Gold Coast Mobile Veterinary Service. We, as a team, feel strongly that we are called to serve the furry four-legged creatures that depend upon us, and we must act as their advocates. In addition, we understand the strong human-pet bond, and know how dear these creatures are to you and your family. Information about our important missionary, philanthropy and spiritual work is always available, and we welcome donations of time or funds to help with our missions.
---
Gold Coast Teamed Up with Urban Impact of Black Rock for Four Years
Gold Coast Mobile Veterinary Service teamed up with Urban Impact of Black Rock's Oasis Program for four years and donated over 50K in care, medications, vaccines and services. We heading out with the Bridgeport Rescue Mission Mobile Kitchen to visit the P.T. Barnum housing project. While the Mobile Kitchen provided hot, nutritious meals as well as clothing, shoes, blankets, Gold Coast Mobile Vet offered wellness examinations and vaccinations and selected services and medications for dogs and cats.
We are currently researching a new outreach to help even more pets and families in need.
---
The Animal Haven & Gold Coast Mobile Vet Provide Care for Animals in Need
Gold Coast Mobile Vet is now working with Animal Haven to help provide veterinary care for animals awaiting adoption. The Animal Haven provides a safe and loving refuge for homeless and abandoned animals throughout Connecticut. They have weekly adoption hours and volunteer opportunities are available for individuals who are interested in helping to provide exercise, socialization and care to the animals. You can visit their website at: http://www.theanimalhaven.com/
---
Gold Coast Mobile Vet and Rose Hope Animal Rescue Work To Save Chihuahua
January 15, 2011
As many of you know, Dr. Saria and the staff of Gold Coast Mobile Vet have an ongoing commitment to helping animals in need and the organizations who care for them. Working with homeless and abandoned animals often necessitates a sudden mobilization to meet ever-changing veterinary needs for the animals who rely on us.
On Thursday, January 13, Hannah Kenny with Rose Hope Animal Rescue rushed a small black chihuahua to us for emergency care. A good samaritan brought the abandoned dog to Rose Hope after finding the dog bleeding, his right eye bulging out of his head.
It didn't take more than a quick evaluation to determine that this beautiful pup was fighting for his life. In shock and shaking uncontrollably, his eye left a trail of blood on the exam table and a large lump spread across the top of his head. Dr. Saria immediately placed a catheter and administered IV fluids and pain medications. His tongue and gums were blue and his body was limp as we wrapped him in warm blankets and adoc_saria_and_chihuahua_lowres heating pad for extra warmth.
Over the next few hours, we kept vigil over the tiny black pup. His color slowly improved and his breathing became more steady. He started to show signs of awareness as we cared for him throughout the afternoon.
On Friday morning, this brave little chihuahua was strong enough for surgery. Dr. Saria removed the eye that was irreparably damaged and in return gave him a new name – Pirate!
Pirate is expected to make a full recovery and be available for adoption soon. If you would like adoption information or if you would like to make a donation to help cover the cost of his medical care, please visit Rose Hope Animal Rescue online at http://www.petfinder.com/shelters/CT112.html or call (203) 597-1236.
---
Paying It Forward: Parvo Survivor Saves Life of Homeless Puppy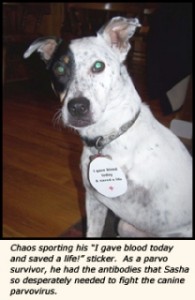 One afternoon in early January, Hannah Kenny of Rose Hope Animal Rescue contacted us about a puppy she had taken in for adoption. During an exam, the puppy was tested for Canine Parvovirus, a highly contagious disease that often kills puppies within a few days of symptoms. Upon arrival, Sasha looked perfectly fine – she was bright and alert. That was all about to change.
The virus was moving through her system and the next few days would be critical. By morning, she was refusing food and water and had become lethargic. The Gold Coast team placed a catheter and started her on fluids and medications to support her through the difficult days ahead. Sasha started with the foul-smelling diarrhea that is one of the tell-tale signs of parvo. She was weak and struggling, in spite of supportive care.
That's where Chaos enters the picture. This brave little terrier is a survivor in his own right. He was adopted through Animals for Life in Middlebury in 2009. At that time, Dr. Saria saved his life – twice! – as his vet at Banfield Pet Hospital in Waterbury.
His first medical struggle came after he was severely injured during an altercation with another dog at the shelter. Chaos' leg was damaged beyond repair and he underwent leg amputation. Shortly after recovery from surgery, tragedy struck again – this time, in the form of canine parvovirus. Thanks to intensive care and hospitalization, Chaos became a parvo survivor! He was adopted by the Maas family and loves to play with his canine sisters Miss Sassy Pants and Miley.
As a parvo survivor, Chaos carries the antibodies necessary to fight off the parvovirus. His family allowed the staff of Gold Coast Mobile Vet to come to their home and draw blood from Chaos on Thursday, January 13. This life-saving blood donation enabled us to provide Sasha with a plasma transfusion. Just a few days after the transfusion, Sasha was eating on her own and ready to play! She has now made a full recovery and will soon be ready for adoption.
If you are interested in meeting Sasha or any of the other animals available for adoption through Rose Hope Animal Rescue, please visit their website at http://www.petfinder.com/shelters/CT112.html or stop by during one of their adoption events at Petsmart in Waterbury. Rose Hope Animal Rescue is a 501(c)3 Non-Profit organization.
---
CT Watchdog Reports on Dr. Saria's Charitable Works and How This Commitment Led Her to Start Gold Coast Mobile Veterinary Service
Read the two stories below, written by George Gombossy with CT Watchdog. The two articles follow Dr. Saria's transition from Banfield Pet Hospital in Waterbury through the formation of Gold Coast Mobile Veterinary Service…
Banfield Pet Hospital Chain Pulls Plug On Successful Waterbury Pet Rescue By Halting Steep Discount
By George Gombossy | Last updated Sep 11, 2010, 4:21 pm
For almost nine years, a group of volunteers, a Waterbury veterinarian, and the Waterbury PetSmart store worked together to save and heal thousands of homeless cats and dogs in Western Connecticut.
That successful partnership ended Aug. 25, when the largest pet hospital company in the U.S. told its vet, Dr. Rebecca Saria, that she could no longer give the rescue organizations a 50 percent discount. She was also ordered to stop accepting state vouchers for inexpensive spaying and neutering, and she was told to remove all photos of pets she has helped from her office walls.
Dr. Saria, in confirming what I was told by rescue organizations, said she was told it was time to get with the program and operate her Banfield Animal Hospital franchise just like all the chain's other 750 hospitals are run.
Since then, the Rose Hope Animal Refuge group said it has had to greatly reduce the number of homeless dogs and cats it accepts.
Banfield officials noted that they provide a standard discount to rescue organizations in all their facilities and are simply asking that Dr. Saria follow its rules.
"We are asking that the hospital owner, Dr. Rebecca Saria, honor her franchise agreement by adhering to the same hospital operating guidelines all Banfield hospitals follow. As part of this agreement, we absolutely encourage and support providing discounts to shelters and rescue organizations; however, we ask that the discount aligns with our practice-wide initiative of 15 percent."
"At Banfield, The Pet Hospital®, we are deeply committed to the health and well-being of every Pet that comes through our hospital doors—whether that Pet currently belongs to a family or is waiting to be adopted. Our commitment to caring for Pets goes beyond our hospital walls and into the community. Banfield has long-standing relationships with shelters, rescues and adoption agencies throughout the country—we provide various services including veterinary care as well as food and financial support thanks to the efforts of our hospital teams and our charitable arm, the Banfield Charitable Trust," wrote Karen Johnson, DVM, vice president and client advocate for Banfield, in response to my questions.
Hanna Kenny, director of the rescue operation, and Caroline Abate, a volunteer, said their small group, consisting of about 10 foster families and about a dozen volunteers, was only able to operate successfully because of Dr. Saria's generosity and devotion to animals. And they have been tremendously successful. According to their figures, they helped about 1,200 cats and about 500 dogs a year, providing them veterinary care, then providing temporary homes and ultimately finding them permanent homes.
The group used the Waterbury PetSmart store to temporarily shelter the homeless cats. The group also brought the cats and dogs to Dr. Saria's animal hospital there for shots, spaying or neutering and for other veterinary care. Banfield has hospitals in 60 percent of the PetSmart stores, where they lease space.
Dr. Saria waived office fees and gave the group 50 percent off on all services. Her work for the group still brought in about $60,000 for her practice each year, from which she paid royalties to Banfield. She had a similar arrangement with another rescue organization, which generated about $40,000 in annual revenue.
For the past three weeks, Kenny and Abate said, their group has had to turn away many cats and dogs whose owners sought to give them away because could no longer afford to keep them or could not afford needed veterinary care.
But now that Dr. Saria can only give a 15 percent discount, the group has to travel as far as Westport to use other vets who will give 50 percent discounts. That has reduced the number of animals the group can help.
"It's now a logistical nightmare to have to drive 20 miles to see a vet who will accept a state voucher or give a large discount," Abate said, adding that her organization depends on donations and adoption fees to pay for their vehicle – which has 200,000 miles on it – and veterinary bills.
Banfield's decision came at the worst time, Kenny said, as more and more people are facing financial problems.
"People are having a hard time between deciding whether to put food on the table or let the family dog go," Kenny said. "I know they have to make money, but how about showing compassion and not just greed."
Dr. Saria, who said she was ordered by the company not to talk to the media, said Banfield had known about her arrangement with rescue groups for almost nine years. It was only last April that her bosses started questioning her more closely about her discount program.
She said she is one of the top financial performers in the Banfield operation and has been given several awards for her business operation.
She insists that both she and Banfield still make money from the rescue groups and says Banfield's take was only reduced by $1,000 a month as a result the discounts she gave.
"I believe in philanthropy and taking care of pets is part of my mission in life," Dr. Saria told me, adding that her discounts have not hurt the business. She said her operation is one of the most profitable in the chain.
"Money follows good medicine," she said. "What I did was profitable for the business and it was beneficial to Banfield and to the community," and to the animals.
Milford Pet Hospital Takes To The Road To Rescue Animals
By George Gombossy | Last updated Dec 19, 2010, 3:51 pm
A Milford veterinarian has given up her lucrative corporate practice and has purchased a mobile surgery center so she can continue to care for animals in rescue shelters where she gives 50 percent discounts.
The last you might have read about Dr. Rebecca Saria was in September, when the largest pet hospital company in the U.S. ordered her to stop giving the 50 percent discounts she had been providing to animal shelters for years.
Dr. Saria, after more than nine years with Banfield Pet Hospital in its Waterbury location, quit her practice and purchased a used, 24-foot surgical van, fully equipped with diagnostic equipment, instruments, computer, fax machine – everything you would find in a normal vet practice.
You can see and hear Dr. Saria and members of her staff today from 6 to 7 p.m. on my Internet radio/television show – The Connecticut Watchdog News Hour – at www.AmericanOnlineRadio.com and join the discussion on the accompanying chat room. The program is saved for future viewing at the same location or on www.Ctwatchdog.com.
And on top of that, you get Dr. Saria, an extraordinary woman who has committed her life to taking care of animals, not only treating physical ailments but also providing help for their and their owners' emotional needs.
She has been practicing in her high-tech van for about six weeks and is ready to officially launch her business. She said she purchased it from a vet suffering from brain cancer who needed to sell the vehicle to pay his medical bills.
"I felt good about that," she said, holding one of the four cats she was treating in the van as it was parked in her driveway last week. Her young German shepherd, Athena, could be seen through the van window, guarding the house.
By purchasing the van, she said, she not only gained a vehicle she could use to pursue her dream, she also was able to help a man suffering from cancer and burdened by medical bills. She also purchased a second, smaller van, that she can use in non-surgical cases.
She said she is only aware of a couple of other mobile veterinary vans in the state as well equipped as hers, but that more vets are now turning to mobile offices.
Her territory is all of Fairfield County – hence the Internet name of her business – www.goldcoastmobilevet.com. But she also travels regularly to Thomaston and to Naugatuck. In Thomaston she parks her van at the at Thomaston Feed store, where she has regular weekly hours. The store helps provide special food for ill pets to help them recover.
She also goes outside of her normal territory to help pets. Every Tuesday she takes her van to animal shelters including Rose Hope Animal Refuge, and provides about $1,000 a week worth of discount services to these organizations. In addition, she plans to go to different communities once a month and provide free medical care to homeless owners of pets.
Most of her work is done while the van is at her home or at the shelters, but she also takes it to others' homes in cases where the pets are too sick to come to her. She also makes the difficult house calls when a pet's life has to be ended. She knows the distress that pet owners experience when they have to say their final goodbyes. In those cases, especially, she said she wants to go to the home so she can comfort both the family and the pet.
Dr. Saria, who has also published six novels, charges what she considers regular fees for clients who come to her van parked at her home. She charges an extra $95 to take it to a private residence.
Dr. Saria said she sometimes finds it important to be able to observe a pet in its home surroundings where it's easier to accurately diagnose serious problems.
For instance, she described the case of a dog she first saw in an animal hospital, where it was suffering from multiple medical problems. Because the dog was in a strange environment and stressed, she was unable to completely diagnose it. When she visited the dog at its home, she discovered that the dog walked unnaturally, giving her a clue that it had liver problems, which was later confirmed by tests.
So far she has not earned enough money to draw a salary to pay her two volunteer assistants. She has been able to pay the $100,000 cost of the van.
However, she is not concerned. Her belief is that "you can do good and make money."
Even before opening her own business, Dr. Saria had done well, both for herself and the pet hospital chain. She has received several awards from her former company for growing the business.
While with Banfield, which rents space at the Waterbury PetSmart store, she worked closely with animal rescue organizations to save thousands of pets.
---
Dr. Saria in Haiti in January of 2010
Ministering to the community, orphanages and people of Port-Au-Prince
---
More About Our Charitable Work in the Community
** On occasion, Gold Coast travels to an unannounced region and opens her doors to the homeless and in need who have pet companions. Although we promote responsible pet- parenthood, we understand that sometimes things can happen to any of us, and often it is the pet-companion who is the last source of comfort, emotional health and support, but also a source of financial strain. With such support and encouragement, we hope to render solace and assistance to the people trying to care for their pets, as well as help the innocent pet. Therefore, we believe that helping pets brightens many furry hearts and also helps our entire community.
These services are provided entirely by internal (Gold Coast devotes 10% <tithe> of revenue to a charity fund used exclusively for these services) and external donations.
If you have seen an area that could benefit from our services, please contact us. If we all work together, and all give in whatever ways we can, we will be accomplishing our mission given to us in sacred trust by God.
Thank you.