Email your photos and stories to deryl@goldcoastmobilevet.com. We look forward to including you and your pet in our online photo gallery!
---
Good Morning Dr. Saria,
I want to thank you for being such a compassionate vet during our times of need for both of our pets, Annie and Bosco. It has been a tremendous year of loss for us, but it was such a comfort to be able to go through it all in the comfort of our own home. You and your assistants were so caring and gentle with everything from the moment I called. I am so
thankful that we found you.
Thank you for everything.
Lenny and Virginia
---
Welcome to Dr. Saria's newest member!
Shadow is full of vitality and absolutely comfortable in his new status… We love him!!
Shadow
---
Our thoughts and prayers are with Jaegen's loving family. Having to say goodbye to our beloved companions is always heart wrenching. We hope that you were comforted to be able to say your goodbyes at home where Jaegen could be surrounded by family. You will soon be able to look back on all of the wonderful moments that you shared together and smile. Our sincere condolences. Rest in peace, sweet boy…
Good Morning,
I write this email with a very heavy heart today as last night we said goodbye to our beloved Jaegen.
I cannot tell you enough how much my husband and I appreciated all you guys did last night to make such an awful night more bearable. You arrived at our doors as angels – – angels there to help us and help our dog.
Even though it was our first time meeting Dr Saria and yourself, we felt as though we had known you for awhile – – your warm voices and caring smiles will not be forgotten. Last night was a devastatingly sad night for us, one that has left our family brokenhearted, we miss our dog very much.
We can smile though as we reflect back on the compassion you showed for us, for our family and most important our dog. He will always be a part of our family, he was our first baby and we loved him very much. Can I include a photo for your website?
Much thanks again,
Jaime
---
Cleo and Morgan, seen above, were perfect angels during a recent house call. Morgan does a perfect imitation of a lap dog in spite of being a full grown golden! This beautiful pair reside with their family in Naugatuck.
---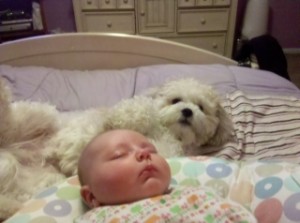 Phyllis sent us this beautiful photo of her bichon Sherlock and their newest family member!
---
This photo doesn't do the beautiful Jesse justice! She is a one year old german shepherd who first came to visit us in March – and Jesse is as stunning as she is sweet!
---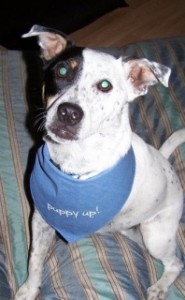 November 17, 2010
Dr. Saria,
Chaos ( and his mom & dad ) wish you good luck on your new venture with the mobile vet unit. What a great way to help the animal community. As a former patient who is truly flourishing (look for him an an upcoming issue of Voices Weekender) Chaos is a survivor thanks to you. You did such an amazing job after his leg trauma and subsequent amputation. He is a wonderful addition to our family & we couldn't imagine life without our big boy, Chaos.
Marc & Debbie
---
January 19, 2011
Dr. Saria,
I am so glad to hear of what amazing things you are doing, though you are undoubtedly missed. Scott and I cannot express our gratitude enough for saving our puppy's life over a year ago. Without you, we would be without the love of our life, Sam the 80 pound, smiling yellow lab. My family and I are forever grateful for your frank, yet compassionate demeanor while caring for our little man.
Warmest Regards, The Morrisroe Family