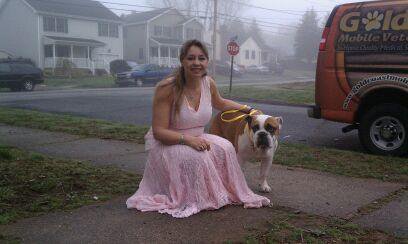 At seventeen, when I moved out on my own, I got a puppy. I was living in San Fransisco a few blocks 'downtown' from the Haight-Ashbury district where there were bars on the windows and locks on the hoods of people's cars so their batteries wouldn't get stolen. On that day, I was robbed while on the city bus. He took my twenty dollar bill that was supposed to go to groceries for the month (believe it or not, twenty dollars can buy a lot when you get creative!). Utterly depressed, losing faith in humanity, myself and even my God, I opened the door to my apartment and flipped on the light switch, looking for the companionship of my puppy.
She looked up as light flooded the room, and her sweet face glowed with love, joy and amazement. She had love for me because I had bestowed love upon her. She had joy because she knew her basic needs of bathroom breaks, food and water would be met because I was the one responsible for providing them for her. But amazement? I turned off the light and her head cocked sideways, watching me in the dimness. I turned the light back on and saw her eyes sparkle again with amazement. It dawned on me that to her, I was the source of light and it was something she did not understand, could not scientifically explain, yet she believed in. She had faith- the ability to believe and trust in something she could not understand yet accepted wholeheartedly.To her, a burst of light in a dark room whenever I entered… To me, the concept that I am truly loved by a spiritual God that will not forsake me… Her simple faith filled my faith again and although my belly went hungry that night, my soul was satisfied.
Others have had much harder faith trials than I. Mary Magdalen at the empty tombstone of Jesus, Thomas at the proclamation of His resurrection, a mother at the grave of her child, perhaps you at some deep and painful experience.
My prayer to you this Easter week is that when you feel your heart sink, or you feel alone or bereft, you can turn to your pet companions and be reminded of how believing- having faith- is as simple to a puppy as the flip of a light switch. May it be that clear to us.