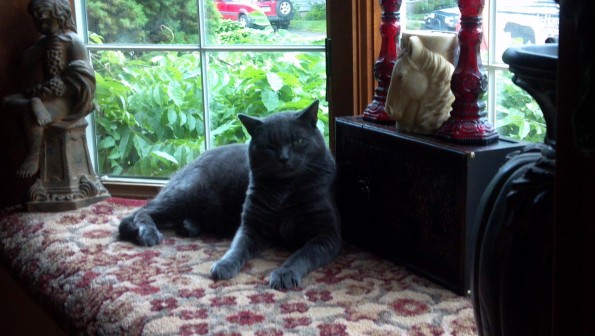 Sunday I had the day 'off' so I woke up late at 7am, got my daughter ready and fed, walked and medicated the animals, raced to the bakery for breakfast, drove to and attended a class, walked over to the sanctuary to listen to a sermon at church, went home, re-arranged office furniture to accommodate a new desk and animal kennels, cleaned the floor, fixed the electric cords, moved the refrigerator and organized the vaccines and blood tests by date, climbed into the attic to retrieve Halloween decorations, made dinner, drove to another meeting and came home to sit down by 10 pm. As I took a breath I happened to glance over at my cat lounging on the cat tree. His big yellow eyes were  watching me with the particular gaze of cat that has spent a glorious afternoon doing nothing but sunning by the window. He sat silently, peacefully, gazing out at the me and the world with a calm, introspective cat-attitude.
"The silence is the secret," his eyes reminded me. "In the quiet is the mystery. Silence your body to listen to the words. Silence your words to listen to the thoughts. Silence your thoughts to listen to your heart. Silence your heart to listen to the spirit. Silence your spirit to listen to His spirit… Leave the many and listen to the one."*
Then he stretched, yawned and lazily jumped off the cat tree and padded over to me. With a head butt against my hand, he climbed into my lap and fell asleep again. And I had a few moments of peace.
Rebecca Saria, DVM
  *quote from a missionary currently in Egypt